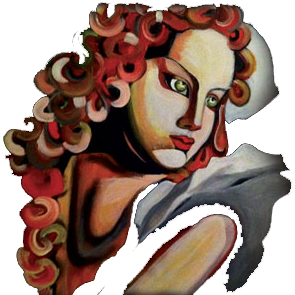 Born in 1971, in Vibo Valentia (VV) - Italy, currently lives in Lamezia Terme (CZ) - Italy.
Graduated in 1990 artistic maturity from the art institute of Vibo Valentia (VV) - Italy.
Participated in the first international competition of Paining " Color's " in 2009 at the center of Modern Art in Lamezia Terme (CZ) - Italy.
On August 9, 2015, at the Municipal Auditorium in Filadelfia (VV) - Italy, it inaugurated the exhibition "The Great War", on the occasion of the event with which the city of Filadelfia (VV) - Italy recalled the "131 children killed during the WWI".
From 26 to 28 August 2016, she attended the Maida (CZ) collective painting organized by the Pro Loco, held at the Museum of Maida (CZ). " Collective painting "

The 11 November 2016, in Lamezia Terme (CZ - Italy) at Tenuta "Statti". Rotary Club charity event in support of the fight against polio
From 20th to 29th August 2017 he participated in the XXV Exhibition of paintings, sculpture and graphics works by "Estatarte", held at the Tonnara Museum in Pizzo Calabro (VV).
• My thoughts on "The trees"
The trees, care for me, look at me, protect me with their love without words .... Admire, wonder of their colors, their changes, their dress and undress. The colors of autumn trees have a special charm, warm colors, the union "between the already and the not yet." They walk with us all the seasons of life, becoming known through their infinite nuances. An immense good and valuable source of inspiration for me.
• My thoughts on "The metamorphosis"
Love is the key to change ... that's why I titled this "Metamorphosis" series: transformation, renewal ... Around us, everything changes and everything flows in a steady stream and enchanted...Capturing moments of life, feelings, strong emotions ... So I wanted to represent this pictorial journey.
• Criticism Lamezia Terme 14/03/2016 D.ssa M. Leone
His works are characterized by a strong and incisive stylistic united in a material sense of color and expressive. L 'artist mainly goes back to the models adopted by the Art Deco movement born in the' 20s of the twentieth century. His approach to painting is instinctive and visceral type; in some cases the 'artist paints directly with his hands, as if to underline the deep bond and vividly with the matter. The subjects of his paintings are mostly women from the bodies deliberately sproporzionali and sensual, portrayed in various poses. The faces are well defined through slight touches of color, while the looks and gestures meant to express a certain emotional condition. Very impressive are also the various "landscapes" and the series of "trees" made by 'artist with the' intention to represent, not only the natural reality, but rather its own inner experience.
Artistically Young, passionate of the color's shade by their strength and intensity.